Brambles Announces Chief Information Officer Retirement and Appointment
Brambles has announced the appointment of Rod Hefford to the role of Chief Information Officer (CIO), effective immediately. Mr Hefford will be a member of Brambles' Executive Leadership Team, reporting to Chief Executive Officer, Graham Chipchase. This appointment follows a decision by the current CIO, Jean Holley, to retire from Brambles for personal and family reasons. Ms Holley will remain with Brambles until the end of July to ensure a smooth handover. Mr Hefford joins Brambles from Ball Corporation, where he was Vice President, Information Technologies and Services. Previously, he was Group CIO for Rexam from 2013 until its acquisition by Ball in June 2016. Prior to joining Rexam, he had a 20-year career with Unilever, where he held a number of executive roles including CIO Global Supply Chain and Customer Development. He holds a Bachelors' Degree in Materials Engineering from Monash University, Australia, and a Master of Business Administration from Warwick Business School, in the UK.
CSafe Global Sales Expansion in UK and Ireland

John Bullon Appointed Director of Sales, UK and Ireland.
CSafe Global has appointed John Bullon as Director of Sales, UK and Ireland. In this new position John is responsible for maintaining and developing customer relationships and promoting the wide range of available cold chain packaging solutions while supporting CSafe's business progression in the region.
John will be an essential global market contributor to the company with over a decade of experience as an international senior sales manager. Having held roles within diagnostic OEM contract sales, he possesses strong knowledge of medical devices, immunoassays and personalized medicine.
As a world leader in temperature-controlled solutions, CSafe Global consistently meets the challenges of complex cold chains while focusing on serving patients who require life-saving and life enhancing biopharmaceutical products. John Bullon will serve as a substantial asset as the company continues to significantly expand their international footprint.
Contact John Bullon at jbullon@csafeglobal.com for temperature-sensitive packaging needs today.
Pelican BioThermal Hosts Second Annual Blood Drive Event
Pelican BioThermal joins parent company Pelican Products, Inc. to recognize the importance of blood donation through a multi-day blood drive taking place next week at locations across the United States. The multi-day event kicks-off on June 14, World Health Organization's World Blood Donor Day, at Pelican Products locations in Torrance, Calif. and South Deerfield, Mass. followed by an event at Pelican BioThermal in Plymouth, Minn. on June 16.
Last year's multi-day drive resulted in an estimated collection of nearly 60 pints of blood, enough to save as many as 17 lives. Based on current employee pledges, the company expects to double the number of donations during this year's blood drive.
The annual blood drive supports the mission of the customer base for both Pelican BioThermal and Pelican Products—which includes the most demanding markets, such as fire safety, law enforcement, defense and military and the life sciences industry—while also serving the needs of the community.
"Developing products used to keep blood at a stable temperature is a key part of our business," explained Pelican BioThermal president, David Williams. "We understand the critical role that blood donation plays in maintaining blood supplies for lifesaving procedures and appreciate the chance to bring additional awareness again this year."
Pelican BioThermal's innovative thermal packaging technology was originally developed for US Army Special Forces transporting blood units into the field. Today, Pelican BioThermal provides a full range of single-use and reusable temperature-controlled packaging options that ensure the integrity of mobile blood supplies and inventories for blood banks, hospitals, EMT personnel and first responders alike.
Details for the blood drive are included below.
Where: Pelican BioThermal, 3020 Niagara Lane N., Plymouth, MN 55447 (open to the public)
When: Friday, June 16, 2017
Where: Pelican Products, 23215 Early Ave., Torrance, CA 90505
When: Wednesday, June 14, 2017
Where: Pelican Products, 147 N. Main St., South Deerfield, MA 01373
When: Wednesday, June 14, 2017
Pelican BioThermal is a division of Pelican Products, Inc., which is a portfolio company of Behrman Capital, a private equity investment firm based in New York and San Francisco.
Market reports show sustained increases in UK wooden packaging input costs
Raw materials for wooden packaging and pallets have continued to rise in the first four months of the year, according to the latest Markit/CIPS report. The independent monthly survey of key UK industry sectors shows pallet timber has risen for nine consecutive months and nails have risen for 11 consecutive months.
The independent monthly survey of key UK industry sectors shows pallet timber has risen for nine consecutive months and nails have risen for 11 consecutive months. Softwood, in general, is marked as 'in short supply' and up in price for the sixth consecutive month.
The report shows that pallets increased in price in March and April and reconditioned pallets increased in April. In general, wood products have risen for eight consecutive months, with the cost of material inputs and outputs up 14.6 per cent and 17 per cent respectively on average since 2010.
"Inflationary pressures have continued to impact on UK industries, including the wooden pallet and packing sector," said Stuart Hex, general secretary of the Timber Packaging and Pallet Confederation (TIMCON).
"Nails and wood account for at least 70 percent of the cost of manufacturing wooden pallets and packaging, so it's unsurprising that these costs have had an effect on the price of the finished products," he continued. "TIMCON members have worked with pallet users to absorb the costs, but some price rises have unfortunately been inevitable.
"This said, wood remains by some distance the most economic material for pallets and packaging. It is also the most re-useable, repairable, recyclable and all round most environmentally sustainable option."
Source: TIMCON
Plastic Pallet Pooling (Rental) Market to Grow at a CAGR of 6.6% Until 2027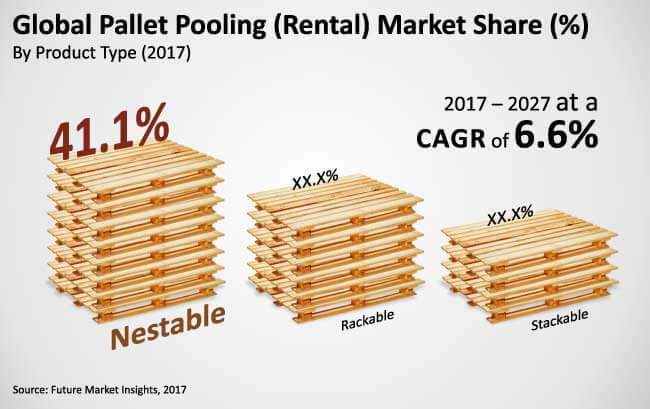 I don't usually bother much with releases related to commercial market reports due to the lack of information worth sharing, but this one seems to have some interesting details, such as the large market share for nestable pallets (see the image above), as well as the importance of second tier suppliers. Overall, it estimates the global plastic pallet rental market at over $670 million. Earlier this year we covered Japan Pallet Rental, which pools over 8 million pallets and generates revenue of around $200 million. The largest plastic pallet rental company in North America is iGPS.
According to a new report by Future Market Insights, the global plastic pallet pooling (rental) market is expected to grow at 6.6% CAGR through 2027. The demand for plastic pallet pooling (rental) is growing steadily, it notes, owing to their higher durability. Further, the high cost associated with repair, management, and storage of pallets is influencing companies to opt for rental pallet pooling.
Renting pallet allows companies to shift their focus on core businesses and day-to-day supply chain operations. Further, simple rental systems allied with price transparency are promoting the use of renting pallet among end-users.
The key trends influencing the global pallet pooling (rental) market include the points:
An increasing demand is being witnessed for pallets that meet hygiene requirements and offer mechanical performance.
The adoption of radio frequency identification (RFID) tags is increasing among end-users owing to its advantage of tracking the pallets throughout the supply chain.
By material type, Future Market Insights has segmented the market into HDPE, Polypropylene (PP), and advanced composites. Among these, HDPE is the largest segment by material type, accounting for nearly 75% revenue share. In terms of revenues, this segment was valued at US$ 506 Mn in 2016, and is anticipated to reach US$ 538 Mn in 2017. PP and advanced composites segments are projected to grow at over 7% CAGR through 2027.
By product type, the global pallet pooling (rental) market has been segmented into nestable, stackable, and rackable. Among these, nestable segment is the most dominant, accounting for nearly 40% revenue share of the market. The nestable segment was valued at US$ 277 Mn in 2016, and is projected to grow at 6.2% CAGR through 2027.
All the three kinds of pallets have demonstrated their importance in various industries, the report notes. For instance, nestable pallets are considered best for the shop floor, as they are cheap as compared to the other pallet types. Stackable pallets are considered best for in-house transportation, as they are more expensive than nestable pallets. Rackable pallets are relatively expensive as compared to the other types, and provide high quality and strength to end-user industries. The nestable segment is expected to be an attractive segment in terms of market share and is expected to create a slightly high incremental opportunity as compared to the rackable segment.
Future Market Insights offers market forecast and analysis on key end-users in pallet pooling (rental) market. According to the report, the key end-use segments include-FMCG, Food, Pharma, Electronics, Chemica, Others
FMCG and food are among the most dominant end-users in the global pallet pooling (rental) market. These two segments will grow at 6.7% and 6.8% CAGRs respectively during the forecast period. The FMCG segment was valued at over US$ 217 Mn in 2016. By 2027, this segment is projected to surpass US$ 438 Mn in revenues.
North America remains the largest region for plastic pallet pooling (rental) accounting for 38% revenue share of the market. In terms of revenue, the North America pallet pooling (rental) market is projected to grow at 6.7% CAGR through 2027. Western Europe is the second largest market, accounting for 23.5% revenue share. Future Market Insights estimates these two regions to remain dominant throughout the forecast period.
The key companies profiled by Future Market Insights in its report iGPS Logistics LLC, Loscam Australia Pvt. Ltd., Brambles Limited, Euro Pool Group, and Faber Halbertsma Groep B.V. According to Future Market Insights' competitive landscape analysis, Tier 2 companies account for 43% to 48% market share.