Used pallets are in short supply and going up in price. Here are three strategies to solve the problem.
Anyone who regularly ships on used 48 X 40 wooden pallets knows that they are in short supply. As Modern Materials Handling reported recently, that has led to a sharp increase in the price of cores, the used pallets that are repaired and remanufactured into Number 1 and Number 2 pallets for resale into the used market.
In fact, prices for cores have been creeping up for a year, according to Joe Pecchia, director- strategic accounts and technology development. "We have seen a 25 –to- 33% increase in the acquisition cost of cores over the past year," Pecchia says. "With the price of that key raw material going up, the consequent sale price of the repaired pallets is going up as well."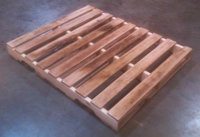 "Due to a combination of inventory shortages and price increases, 48×40 users are reaching out to other 48×40 suppliers in hopes of alleviating these pressures," adds Lee Evans III, senior account manager – national accounts. "What they are finding is that used pallet suppliers are taking care of their existing customers first, and are saving any inventories they have for their own uses. As a result, Number 1 and Number 2 used pallets are much more difficult to find in the open market."
Several factors have been at play, according to Evans and Pecchia.